NEW LOCKING FUEL CAP
They have been setup to work on the M939 military trucks THEY ALSO WORK ON THE M1070 AND M1078 AND A FEW OTHER MV'S THAT USE THE 4INCH THREADED CAP
So if you value your fuel in your truck or don't want any unwanted items to be left in your tank we have the perfect solution for you.
These caps come with 2 keys and the chain so you don't for get it at the pump and for those who have removed the screen or dont have a screen we are suppling a metal retaining rod to hook to the chain to keep your cap attached to the tank.
2.5 ton owners: Fits only the m35a3 and m35a4.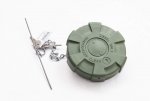 909.703.1400

CLICK TO BUY NOW
Last edited: