New member
Steel Soldiers Supporter
Im Clob, I live in Chattanooga and was fortunate enough to pick up a great condition M35a2 recently.
A deuce has been on the bucket list for quite some time; I flip/strip a few cars a year and recently cleared the shop of all the half-ass projects. And of course once the shop is cleared, the best thing to do is pack it full again.
I've burned through all of the TMs a few times, printed a few off, keep one in each of the bathrooms, etc.
Truck is 1972 AMG, found it in SC, (from member sgms18,) and after dealing with the headache of three different heavy haulers, got ol girl home.
As she is preparing to enter the thunderdome: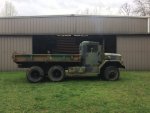 69, but of course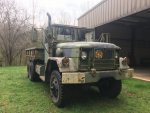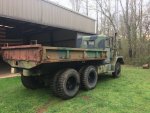 Once dad's new truck pulled in, daughter didn't want anything to do with her jeep.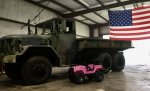 Truck was running strong when I got her and drove into the shop under her own power. To work on the wife's approval, first order of business was cleaning it up: pulled the seats, detailed the cushions and frames, pressure washed the interior, got the windows crystal clear, and took a knotted brush to all of the flaking paint and surface rust.
Checked the fluids, replaced belts, squeezed a few tubes of PM600 into all of the zerks that werent damaged, replaced the rest. Got new air lines and spin-on filter bases ordered up, along with starting a list of all bolt sizes needed to replaced with grade 8 bolt, you know, for the bling.
Thankfully, sgms18 had already sourced the wheel cylinders and new hoses, because the brakes were non-existent. Fronts were knocked out last weekend, took about 2 hours for the first, then only about 40 for the second...figuring out which variety of which size wrenches was a real pain, but the 3714 trips back and forth to the toolbox were probably needed.
My budd socket turned out to be 3/4" square instead of the 13/16" so I hit a bit of a wall as I went to start on the rears. While it is in transit, I was able to get three of the NDT dismounted and the stock wheels cleaned up. Trying to decide if I want to spend the $ to powdercoat them or just a multistep spraybomb job.
Short term plans are to finish the brakes and get it on the road for the first shakedown run by this Sunday. Tag was picked up last Wednesday, before everything shut down for this whole corona nonsense, so as soon as I can get her stopped, Ill be out making noise in the neighborhood. I've got some concerns that the brake lights are going to need some work, but nothing that Im stressing about.
Once I've got the chance to break it in, Ill be throwing 395s on it and letting ol girl eat for a while as is. Gauge panel and interior lights are also on the short term plans, but that is nothing too involved. Next winter (likely) plans are to fab a new bed cover, followed by some form of a paint job. I
will not
be bobbing it at any point.
Anywho, glad to finally be able to do a first post and self-intro. I've already found a number of folks on here to be more helpful than I could have ever asked for and look forward to getting deeper into this community. Thanks for having me
Last edited: