Member
Steel Soldiers Supporter
New project...1972 Dodge Crew Cab
This was advertised as military but I can't find anything on it to verify that. The faded green paint may be OD but the truck was originally painted white. I am going to clean it some today but it looks like it has Dana 60's front and rear. The front bumper and winch are coming off today and those goofy mirrors. It had a 318 that is gone but still has the NP435 and transfer case.
I am looking for a grill, 17 inch wheels, bed, and fenders and that winch needs a new home.
Plans are to lift it and try to fit 37"s under it. Paint will probably be OD green. I am thinking about early Magnum engine with the entire truck harness out of a Ram.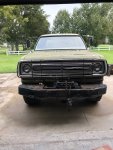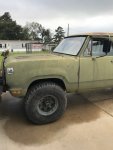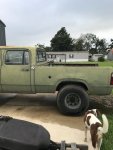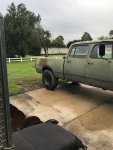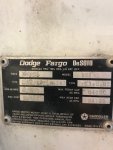 Last edited: