Active member
Steel Soldiers Supporter
In preparation for a turbo install I added a pyrometer and a manifold pressure gauge to my truck in a gauge pod I designed to fit center dash between the defroster outlets. I wanted my gauges to be within easy viewing and I also wanted the add-on to look pretty stock. Below are the step by step details of what I did.
Initially I planned to go with Hewitt gauges since others have had good results with them, they can be had in 24 volt form and they do not require outside power. I measured the dash, windshield divider post, and defrost outlet screw holes and then created the gauge pod and gauges in the 3D world to see how it would look.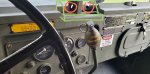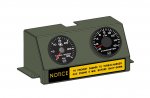 It looked pretty sharp in SolidWorks so the next step was to print out a full scale flat pattern of the pod and transfer all of the lines to an unfolded cheez-it box for some Cardboard Aided Design...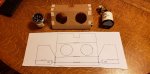 While shopping for the gauges I came across an NOS Stewart Warner pyro p/n 82334 (2005 manufacture) with a black face and white needle like our military dash gauges and that was too tempting to pass up. It ended up costing a bit more than the Hewitt gauges but now I have a semi-matching Stewart Warner setup. The pyro required an extension harness and the actual thermocouple which added to the cost. I also picked a current production SW manifold pressure gauge p/n 82321 (0-30 psi). With the gauges in hand and the cardboard gauge pod taped up I can start mocking up the install to find crashes and other things I need to change.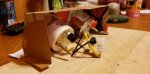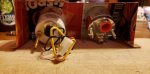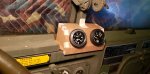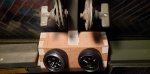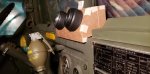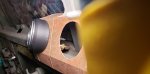 On my first attempt the gauges sit too low and too deep so I made some adjustments to the model to get more height and depth and made another card board cutout. One point of concern is the tubing connection for the pressure gauge and its proximity to the windshield frame. I'm using Autometer 2234 Angle Rings for 2 1/16" gauges that angle the gauges at 15° toward the driver. This was a necessity to get enough clearance for the pyro gauge which was a very deep gauge. I don't have pictures of the second mockup but after adjustments were made it was a better fit for everything on the inside. Now it's time to get the gauge pod lasered out of some metal!