BIG DUMMY
Steel Soldiers Supporter
Since the TMs show where these new-style, short Airpacks are located and how to remove them, I'm only going to focus on what the TMs and other printed literature don't cover. I've searched high and low but haven't been able to come up with any kind of drawing, schematic, or instructions for taking these apart and repairing/rebuilding them.
I have obtained all of my rebuild kits from TNJ Murray, and have been quite satisfied with the kits as well as TNJ's service & shipping. The kits contain a lot of little parts, enough to replace all of the critical items that may dry out & allow air to bypass, or worse.
Once you disconnect the 2 brake wires, 3 air lines, and 2 brake fluid lines, remove the two lower bolts & skidplate with a 5/8-inch socket, then remove the rear bolt from the rear mounting boss with a 3/4-inch socket or wrench.
Once the Airpack is out of the truck, we can look it over to get familiar with it. I don't have any technical references for this, so the labeling is purely what I call it...if you know the official names, please feel free to correct my stupid self as I'm just guessing.
Photos 1-3
give us a basic orientation.
Notice that this Airpack has both the old-style hydraulic brake light switch and the new air switch; I removed the hydraulic switch and plugged the opening with a 1/8-inch pipe plug.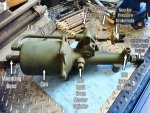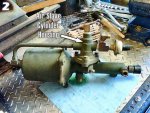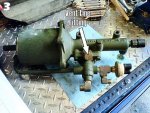 Last edited: