I have wanted a 1038 for a long time, but this one was listed on facebook for a price that was too low to pass up, in non running mystery condition. Story goes it has sat for at least the past 6 years and it will crank with batteries installed but will not run. Gave the guy 1800 bucks, loaded it on my trailer and got out of there! Got it home, all fluids were full, it would crank but not run, verified fuel at the filter....good to go. jumped right to the gas soaked rag trick held at the intake and with a decent amount of cranking it came to life. let it idle a bit, drove it down my road in the country, trans goes 1-2-3. Installed the missing alternator belts and both alternators charge. Starts easily now even without glow plugs hooked up
The governor is not hooked up to the throttle, but I decided I would see if the generator....generates. engaged the pto and it sounds pretty bad, one of the bearings for the shaft below the truck sits between the cab and bed, it would appear just years of getting rained on wiped it out, looks like a plain ol pillow block so I'm guessing finding a replacement would be no big deal. regardless of the bearing noise I had to see if the generator worked. engaged it, raised the rpm and it works! when I shut the truck down I heard a strange hissing noise in the rear....that is when I noticed air leaking from the tank, so apparently the compressor works too.
Only issues I have found is the hood release cable is broken, the cab corners are rusted and the heater controls are missing. the floors and the rest of the truck are very solid, cab corners will be an easy fix.
my plans for it are...... fix the cab corners.... paint.....wish i had a regular pickup bed for it...enjoy!
I may consider a trade of sorts for a nice pickup bed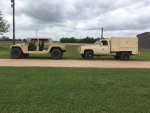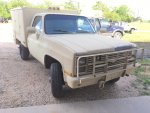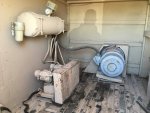 ​