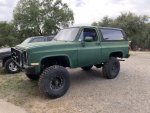 Hey guys new to the forum wanted to say hi. Just bought my first project vehicle, the above m1009. 6.2/700r4/1ton axles.
I have been searching on the forum for a thread to help me with my shifting problems.
same old thing stuck in first
looking for a thread that looks beyond TV cable, governor, and governor gear.
Any ideas?