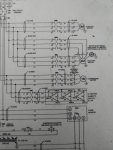 So here is the question before I just start opening things up and poking around, I haven't physically looked at the heater element wiring, so not sure if this is even a valid idea or not, wanted to bounce it off people with more experience with these than I have.
The heat elements in this are 3 phase, it looks like there are three of them wired in parallel according to the diagram, 9.1kw total draw between the three of them.
I'd like to use it as a load bank for my MEP802A, but obviously over 9kw of draw is going to be too much.
Can I just disconnect one set of the heater elements from the power system to bring it down to 6kw of load? Is this even possible or will it cause issues with some type of safety circuit inside the unit?