I finally got my CTIS working. Happy day. It was failed when I bought it, and I *hoped* I could resurrect it.
A bit of reading on this forum lead me to jumper out the tank pressure switch and suddenly she came to life. So all I needed was a pressure switch.
Easier said than done. Replacement pressure switches Ranged from $400-$800 dollars. I was pretty sure I could find an adjustable pressure switch that would work for me, and so I did: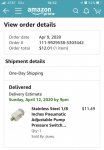 $12, adjustable in the range I needed, and stainless to boot. Not bad. I dialed it in to close at 95 psi and installed her. Fired the unit up and attempted to cycle the CTIS through the full gamut and ensure complete functionality.
The system started bleeding off every other second, and not doing it's job at all. I disconnected the switch and scratched my head in annoyance. It took quite a bit of contemplation and I finally found an entry in the manual stating that cut-in pressure is 74 PSI. I adjusted my switch accordingly and suddenly the CTIS is happy.
I believe that at 95 psi, when the switch kicked on, the loss of pressure was enough to set the switch back off, and it only took a couple seconds to recover and kick the switch closed again.
Please someone chime in and clear up the mud as needed.