Someone I am sure has come across this malady. I have a 1963 M37 with a fresh stock 230 cubic inch flat head strait 6 that I have just installed into the engine bay. The correct transmission for this vehicle has been acquired. As I try to install the transmission, the stick shift will contact the bottom of the factory M37 dash board when shifting it into 1st gear. I have removed the transmission for shifter modification. The engine, bell housing, and frame of the vehicle are all factory, no mods. Researching the NP 420 transmission, I see that there were several variation of the "tower" (stick shifter).
Has someone rebuilding an M37 experienced this and what was their correction?
Should I bend the shifter, or cut and weld it shorter?
When I purchased the vehicle, it had an older style four speed with the shifter tower closer to the center of the transmission and a hole cut BEHIND the original opening in the floor board. See pic. I have a fresh floor board, and the correct for year(?) transmission for this '63 vehicle.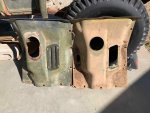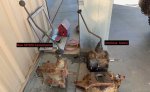 Last edited: