Active member
Steel Soldiers Supporter
I wanted to start a fun thread where folks can post pictures of what they see from the driver seat. I really enjoy the view from the seat of my 5 ton towering over traffic, pointed up a mountain side logging road or waiting in a parade line. It's interesting to see what other members get to see from around the world. Show us where you're going or what you're doing - be safe and have fun!
I'll start off with a few...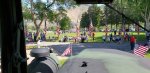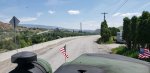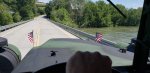 This was at the local Memorial Day ceremony and on the ride back home.