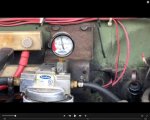 Over the last week I noticed a lack of power over 35-40 MPH. I can get more speed, but very slowly have to work up to it. If I get on the freeway and try to maintain 60ish, I get vibration and shutter. I've read as many posts as I could find here and have already changed out the spin-on fuel filter, the air cleaner and even the left pump (short strait arm with spring above type). No improvement. I had the transmission rebuilt in July, and the IP rebuilt last year.
I have looked for a vacuum leak and kinks or restrictions in fuel lines. None so far, but I noticed for the first time that fuel pressure- if I am to trust the gauge on top of the spin-on, reads neg 2 at idle. I just put a new fuel pump on ?!?!
Any way to verify if this is a fuel pressure issue besides second-guessing the gauge?