Proud papa of a soon to arrive 803A.
Need a way to move from barn next to house when needed. Level Ground.
This cart is rated to 1,400lbs. I have a garden tractor.
https://www.homedepot.com/p/Gorilla-Carts-1-400-lb-Super-Heavy-Duty-Steel-Utility-Cart-GOR1400-COM/206998655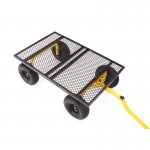 Almost 5ft long x 34" wide.
Any ideas if this cart will work?
Even if bolted down...will vibrations shake cart apart?
If this won't work, any other suggestions?
Thanks!
Chris