*** Tragic Update in Post #17 ***
Ok a very few of you guys know I been going thro some hard time lately. But am just giving everyone here a head ups. I don't want you sorrow or anything just wanting you guys to know. So for the many people here that don't know Year 2013 has been out right the worse year in my life starting in February I lost my best friend to a horrible car crash and between then and now I have lost 8 family member's including my mother who I lost on mother days, She had a heart attack and it took EMS to long to get to her. And after waiting almost a week we were finaly told she was brain dead. Me and my borther had to make the chouse to unpluge her or not and that what hurts the most.SO. And I lost my ant a few weeks ago as well. I also got layed off in June. And still jobless not because am lazy and do go looking it. Its no one around here are hiring and they ones that are I don't have the proper paper work to show I know how to do the job ( welding, sandblasting, painting, etc.) And due to my mantel state my mirage in falling as well. My house was broken into and had a few guns stolen from me. so ye life has been hard on me but im hanging in there. And I wish no one will ever hafe to go thro this because its hard and hurtful.
But on the other hand is. I finally got my 816 running and SHE SOUNDS WONDERFUL.

I will sooner or later get a video. Just need get her register and insured ( PS register (Recreational Vehicle) I can do with the 816. and state farm already approved her as well so just waiting on the cash for it. I have more tread plating to finish the other finder
http://www.steelsoldiers.com/showthr...ders&highlight
= Am going to wait to get her home before I do it. And I finally call K&N
http://www.steelsoldiers.com/showthr...w-to&highlight
= and yes it coved under warranty because I did not modify the filter just the housing and
K&N make spacer ring for thing like that
. Because its a
universal filter
. And I plan on adding a turbo to her and the top end of a NHC 290. I found one butI need the cash.
Other news my son turn 1 years old and I love him soon I will get pic of him in my truck.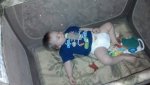 So yes im hanging in there and I have a lot to hang in for manly my son I want him to have a farther growing up and am trying my hardest to be a farther
Last edited by a moderator: