Chaplain
Super Moderator
Steel Soldiers Supporter
Texas has lost a good friend of the MV Hobby, a USMC Veteran, Midland County Sheriff, and Board Member - Texas Department of Motor Vehicles (TxDMV).
Very early Sunday May 26, 2019, Sheriff Gary Painter passed away unexpectedly at his home.
My first knowledge of this sad news came with this email.....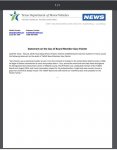 Soon after, FaceBook was "blowing up" with shocked notifications and news releases.
Gary's service to the people of Texas, and this nation is greatly appreciated. He will be missed.
I first met him a couple of weeks after Dianna and I acquired our XM818 Semi-Tractor at auction from the Midland County Sheriff's Department. A building full or "junk" at their impound yard (where we picked up the XM81

was about to be razed because it was spray-insulated with old and crumbing asbestos. My point of contact for the sale called me and said we had just a few days to empty the building before demolition and there were "tons of military parts in there!" John was not exaggerating, thanks to Sheriff Painter's thoughtfulness, I - with the help of an County inmate grounds crew and their forklift - pulled about 27,000 pounds of all manner of parts and pieces of Deuces, 5-Tons, and even APC's out of that building so that it wouldn't go to the Hazardous Waste Dump. Under cover of "we'd have to pay by the pound to have all that buried", Sheriff Painter "used" this salvage operation to save Midland County a heap of cash AND the MV hobby as a whole benefited. Many of the parts were passed on to SS Members, some were sold, and we still have a good number of parts and pieces in our motor pool and storage.
As a Board Member on the TxDMV he personally came to the aid of the MV Hobby in defending the content various Texas FMV Laws when bureaucrats within the TxDMV tried to write into departmental policy and enforce details and stipulations NOT authorized under the LAWS. He strongly advocated for us all. And opened for us many doors into the TxDMV which are oftentimes seemingly unbreachable.
Just a week or so ago, his department made national news, as presented and discussed in this thread:
https://www.steelsoldiers.com/showt...Sheriff-Officer-Hit-could-have-been-any-of-us
. I called Gary after that near tragedy and expressed the prayerful concerns of the SS Members here. I had no idea it would be the last time we would talk.
Here are some related links:
https://www.mrt.com/news/local/article/County-Painter-passes-away-Sunday-morning-13897559.php
https://www.mrt.com/news/local/article/Funeral-scheduled-for-Sheriff-Painter-13898293.php
I will be unable to attend tomorrow viewing or the funeral service on Thursday. If any of our SS Members can attend I would personally appreciate the gesture.

Heavenly Father,
We are grateful for the life and friendship of Your servant, Gary Painter. You blessed us, Lord, with a good and decent man who served many with in a Christ-like manner worthy of trust and respect. Please cover all who knew and loved him with that peace that surpassed understanding. Relieve their grief with the love of the Holy Spirit.
In Jesus' name we pray.
AMEN.
Last edited: