Does anyone have a roof mounted AC in the cab? I have reviewed posts about the red dot units and it seems that they don't cool extremely well. I am wondering if the unit below is run off a generator. I would not mind doing this if it works well and keeps the cab cool. I don't think a inverter could keep up with the draw.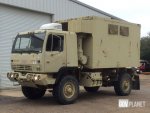 What does a complete factory like setup cost in parts with compressor, brackets, and everything else required to make it work?
Has anyone tried the aftermarket AC kits usually for antique cars on ebay for around $500?
Thanks
Last edited: