Active member
Steel Soldiers Supporter
The $20 locking fuel cap works.
Sloan part number 431006. Free shipping.
And unlike the other locking fuel cap part number floating around somewhere, this one is unvented, so you don't need to swap gas caps when fording water.
The ebay seller ("vinrei_30") told me he had more of them to sell, but I can't find a current ad to link here.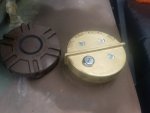 Last edited: