Well all the machining is finally done on the steering gear ! It has only taken 5 months ! Now all that time was not spent on my gear alone, but a lot of the research was. I had this idea about using a standard Deuce steering gear in a power steering system. That way there is no special drilling of the frame, or trying to find a Ross steering gear no longer made, or worrying about clearance issues with over-size tires.
The system is not ready yet, but hopefully this summer it will be.
Here is a "sneak" peek of some of the machining done.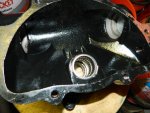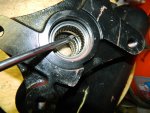 Those are "Torrington" bearings installed for the sector shaft to ride on. There is
"Zero" clearance on the shaft ! It took a lot of time to find the right bearings and how to machine it to get there. Once I am done rebuilding it, there will be "Zero" play in the steering gear ! Since the steering gear is a slow turning unit there is no heat build-up to worry about. This unit will be just as good or better then any modern steering gear out there, and a whole lot stronger then stock.