Father, Surgeon, Cantankerous Grouch
Steel Soldiers Supporter
1- remove arm from vehicle.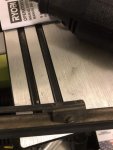 2- remove blade from arm. Save screw and bolt!
3- grind off rivets that hold the blade receiver to the arm. [EDIT 05/28/2020 - just cut the arm immediately proximal to the closest rivet. Just cut it off and forget about all the grinding and smoothing. The arm will be a tad too long if you don't cut some off anyways, so make your life easier. Proceed to step 5 and skip step 4 if you cut as per this edit.]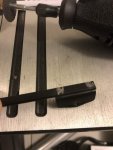 4- smooth off the rivets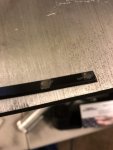 5- purchase Ansco 12 inch civilian wiper blades with included plastic adapter bits.
[EDIT- Anco 12 inch 31-12] [SKEW no. 37577 09449]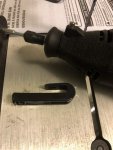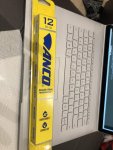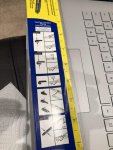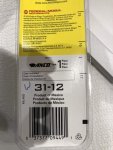 6- slide arm into the "J" shaped adapter that comes with civilian Ansco 12 inch wipers.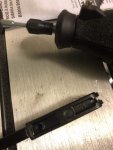 7- Drill through hole meant to be used for retainer clip. Drill through hole, through wiper arm, and all the way through underside plastic.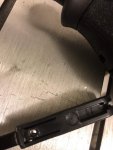 8- repurpose the screw and nylon bolt to anchor the "J" shapes adapter to the wiper arm.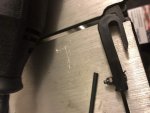 9- attach the civilian wiper to the adapted military arm.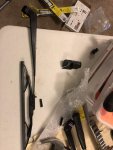 9a- Comparison of military (center) with modified wiper arms. Top shows modification with screw. Bottom is modified using modified rivet. (I modified rivet to fit the plastic "J" adapter as modification version 1, then realized that using screw and nylon nut is a easier and better option as modification version 2. )
[EDIT- Notice the Military blade and wiper arm are both a bit shorter. Makes no difference but if you want to center your wiper then cut off about 2/3 inch off your wiper arm and then mount the plastic "J" adapter to move the wiper blade into more of a military position. I just left mine alone as it does not rub or cause a problem on my rig.]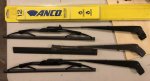 10- reattach to your HMMWV and enjoy $5-10 easy accessed replacements.
[EDIT- After you do this conversion you won't need to replace the entire civilian wiper blade/bracket assembly every time your wipers wear out. My auto parts place sells the 12 inch bare rubber wiper blades without bracket for 5 clams apiece. In the old days, you used to be able to buy just the blade itself, and that was common practice. Now the blades are usually sold with the included bracket because people are getting lazy. [I'm getting old and waxing nostalgic.] You now can still buy just a wiper rubber on Amaz0n or FleaBay. With this civilian modification you now have options.]
Last edited: