Before I learned that my top alternator was fried, I contacted Sure Power about the appropriate products to use to put separate house and starter banks on my M1010, and to replace the DUVAC. They have a lot of variations on each product, and the on-line documentation seemed thin, so I asked for help in selecting products. Then my top alternator died and I went with the Plan B Mod, replacing it with a 12V alternator and disconnecting the DUVAC. Then Sure Power sent the design below in response to my original question. I thought I'd post it here, in case it's of use to others. The Sure Power folks say they have been getting questions from other M1010 owners too.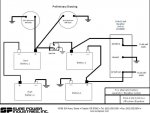 The separator relay closes and links the 2 24-v banks whenever either is charging. When not charging, the starter bank is isolated, so those batteries won't be drawn down when the truck is parked. Wire the starter and glow plugs to the starter bank, and you don't have to worry about dead batteries when you go to start the truck after using the truck's electricity while parked, camping, or whatever. Most boats and RVs have a setup like this, with the house bank isolated from the starter bank so you can always start the engine.
You can also wire the separator to your starter circuit, so that if the house bank voltage equals or exceeds the starter bank voltage, the relay also closes when starting, so the house bank can help provide power for starting. The diagram above omits the wiring from the separator to the ignition switch, but the product does have that capability.
The TMs say to monitor the dashboard voltmeter when using power with the engine off, and to start the engine and re-charge when the meter reads low. The approach depicted above is more forgiving if you fail to monitor the power closely enough.
The Sure Power folks were very helpful. I sent them the M1010 wiring diagrams from the TMs, marked up as I envisioned. They took them to their engineering folks, and actually took the time to help select the right components. I was impressed with their customer service.