One of my co-workers suggested that I take a picture of my two wreckers while I still have both of them, with their booms crossed in the air. So, today I did that, but I'm having trouble coming up with a caption for the photo. Maybe y'all could help out? (click the picture to enlarge it)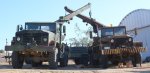 ​
On the left is my new 1983 M936A1, which arrived from GL/Barstow a couple of weeks ago, and on the right is my 1965 M543A2 which I've had for many years. The new wrecker will be replacing the old one, and I'm working on getting the old one ready to be put up for sale soon.
I could have composed the picture better, but I'm no great photographer. And in this hot and humid weather, just climbing up and down on two wreckers to set this up was hard enough work.
Ah, yes, I should mention that both wreckers have names. My old M543A2 is named "No Parking". It's an inside joke, so just roll with it. And I was discussing with my boss the other day that there are far worse vices to have than my green truck collecting habit, and the name for my new M936A1 came to me in a flash of inspiration: "Hookers 'n' Blow". It's funny because it has a hook.
So, how would y'all caption my silly picture?