Hello! My dad and I realized our dream and recently purchased an Army Jeep! It's a 1953 M28A1 in fairly good condition. Still needs a little tlc but we are thrilled with it. I have a couple of possibly stupid questions for a new old MV owner.
1st question is regarding the canvas top. We have it on currently for some airing out but when we opened it there were 4 metal dowels wrapped in the canvas (pictured). Our assumption is that they are meant to give stiffness to the sides of the canvas. Does this sound correct?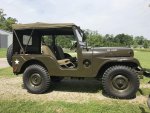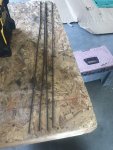 The second question is regarding the particular oil we should be using. Is synthetic recommended? What weight would you recommend. We are in Northwest Ohio and it will likely only be driven during the warmer Summer months.
The third question is Why on Earth did we wait so long to realize this dream! super fun!