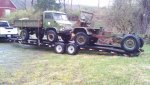 So I was in need of a truck that can get me thru some swampy area. Found one but the PO had two for sale . so well... Two it was.
They came from California and sat in the desert for 15+years.
Sofar I have removed the sparkplugs and dumped a couple of teaspoons mystery marvel oil in each cylinder.. Then I put them in 6 gear and raised one rear wheel. With a crowbar they both came loose.
Got some batteries and tried the starter with plugs out . On starter the oil pressure gets up to 2-1/2.. The closed cab fire trucks ignition wires are sparking. Did a compression test on both and all 6 show compression although all over the place.
So now I am starting on the fuel system and I find that the fire truck has an in tank electric fuel pump.. I have a factory manual but there is no mention of this pump.
Found some posts about this pump but no details.. Does anybody has a fuel diagram with a factory electric fuel pump?
Thank you.
Johan