Well-known member
Steel Soldiers Supporter
Yes, yes I have purchased
another
trailer (purchased on September 5th, 2019).
This trailer was listed locally about 15 miles from my home and I just couldn't say no to it for the price and condition. It is an M116A2 chassis with a Power Plant AN/MJQ-33 body sporting two 3KW MEP-701A diesel generators. The forward generator has 69.5 hours and the rear generator has 140 hours. Both start and run beautifully with the center mounted transfer switch box working perfectly as well. They're already configured for 120V single phase and was owned by a HAM radio operator. He said he bought the trailer at auction in 2005. Pretty new lawn mower batteries (8/19), though only one pair wired to both generators. I can see that that would keep the maintenance cost down, but that does create a single point of failure. The trailer brakes work great and, surprisingly, the shock in the tongue is functional as well!

Here is the original sale ad photo for the generator trailer: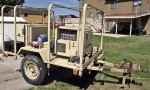 All the following pictures were taken after my short ~15 mile trip home. I was a little nervous at first as the tires are very cracked, but the fellow had an air compressor to add air to the tires (from ~20 & ~30 PSI to ~45 PSI). I traveled side roads home and didn't exceed 40 MPH. The return trip went well and my little '01 Dodge Dakota definitely enjoyed a trailer that provided it's own brakes.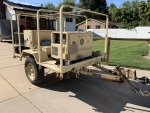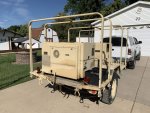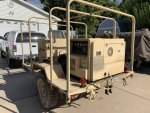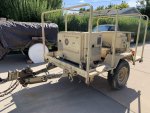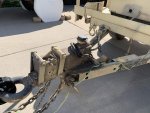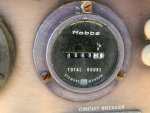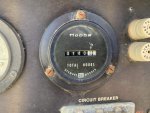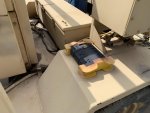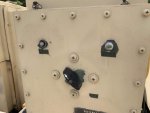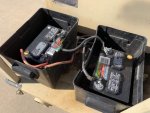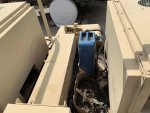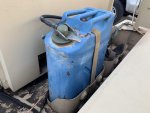 I actually don't know the year but I'm calling it a 1990 based upon the contract number stamped on the tongue having "7-90" very prominent, a shop tag that was still in the tool box (Issue Date 11-19-90), and the date stamped in the CO2 fire extinguisher (5-91) (the fire extinguisher was removed for transport, since the cotton pads were rotten and it was loose in the mounting bracket). I don't know all the revisions the M116 chassis went through, but my understanding is that one way to tell an "A3" chassis apart from an "A2" (when you can't see the axle in the picture) is to look at the space above the shackle mount. The A3 frames are thicker (4") than the A1/A2 frames (3"). Well, this frame is 4", just like my
M101A3
but it is clearly an A2. So 1990 would seem to fit it being a "late" A2 as I would not find it surprising if later model trailers, especially trailers going to support generators, received newer and thicker frames. This is just my presumptions.
CHASSIS, TRAILER, CARGO, 3/4 TON, 2W, M116A2
NATIONAL STOCK NO. 2330-01-101-8434
MODIFIED WITH HEAVY SPRING KIT 57K0912
MFD BY
TURTLE MTN. MFG. CO
.
VEH IDENT NO.
480
CONTRACT NO. DAAE0-
7-90
-C-J00
2
PUBLICATIONS
TECH MANUAL TM9-2330-202-14 & P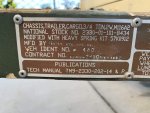 | | | |
| --- | --- | --- |
| WEIGHT | EMPTY | LOADED |
| PAYLOAD | ----- | 2365 |
| WHEELS | 675 | 2880 |
| LUNETTE | 120 | 280 |
| TOTAL | 795 | 3160 |
DATE DELIVERY
(blank)
INSPECTED
(blank)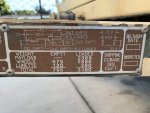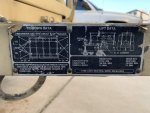 POWER PLANT AN/MJQ-33
2-DED, 3 KW, 60 Hz
NSN: 6115-01-280-2301
SERIAL NO.:
T-91-126-22
TECH. MANUALS:
OPERATIONAL WEIGHT: 3160 LB
SHIPPING WEIGHT: 2850 LB ON LUNETTE: 200 LB ON WHEELS: 2960 LB
LENGTH: 147.30 IN WIDTH: 74.40 IN HEIGHT: 78.40 IN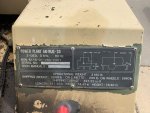 US DEPARTMENT OF DEFENSE
3KW GENERATOR SET, DIESEL ENGINE
SERIAL NO.
T-90-135-ASK-1853
MODEL MEP 701A
TM 5-6115-615-12/24P/34
NSN 6115-01-234-5966 (INCLUDES GEN SET
NSN 6115-01-150-4140 AND ACOUSTIC
KIT NSN 6115-01-271-1584)
VOLTS: 120/208 V 3 PH, 120 V 3 PHASE,
240 V 1 PH, 120 V 1 PHASE
DRY WT 532 LB L 44.00 IN W 28.5 IN
H 30.00 IN
MFR KIT TOBYHANNA ARMY DEPOT
INSP STAMP
30554-88-13603
MFR-14850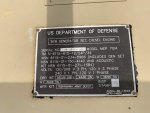 Same info as above, just:
SERIAL NO.
T-90-135-ASK-1860
MODEL MEP 701A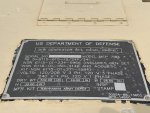 Found inside the toolbox:
SHOP TAG
SERIAL NUMBER
ITEM#01
WORK ORDER NUMBER
T03N1D
ISSUE DATE
11-19-90
AMOUNT
1 EA
STOCK NUMBER
AN/MJQ-33
NOMENCLATURE
Switch Box Assy 13205E5079-5
ASSIGNED TO
ELEC FAB
SECTION
II
LEADMAN
URBANSKI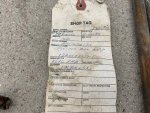 Last edited: