Well, I sold
my 1968 M101A1
and, in favor of the surge brakes, bought this 1997 Pribbs M101A3 from Gunzy!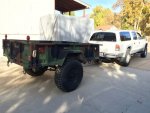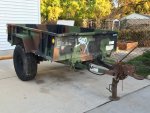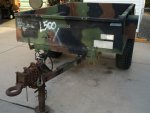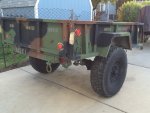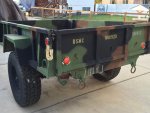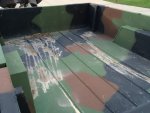 Obviously from the stenciling it places it as a former USMC trailer. It hardly has been used too, but not surprisingly the surge shock is bad and the master cylinder was dry and rusty. It also has a slightly damaged passenger fender, but *shrug* it's not all that bad.
A little side-by side comparison of the A1 vs the A3. A few of the differences to note of the A3 over the A1
Surge brakes (just like the A2)
4" tall frame vs 3" (the tongue is still 3" tall though)
Tongue jack vs kick stand
Wider spacing between the interior wheel wells vs 45.5"
More pronounced exterior fenders for the wider tires and slightly wider wheel base
Reinforced cargo body by the tailgate
Raised center portion of the axle for increased ground clearance
Reinforced axle ends by the brake drum
HMMWV wheels, tires (supposedly with run flats?) and 8 x 6.5" wheel bolt pattern
Larger looped shackles
No rear stabilizer leg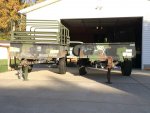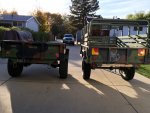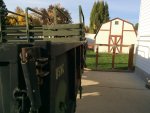 Of course, I transferred over all the goodies from my A1 to this A3 before I sold it.
LED tail lights with much more straight brackets, license plate mount, longer, zinc yellow 3/8" grade 70 safety chains, new suspension shocks, new A3 jack (sold the rustier one), and fiberglass side racks & all-steel bows. (I should have kept the military 12-pin trailer plug though, oh well, it wasn't in the best shape anyway).
Oh, and I drilled the holes up front for double end-gates for increased usability! Note: I haven't yet drilled the holes on the side rails for latching the gates open.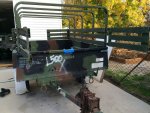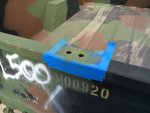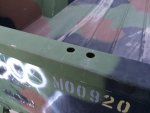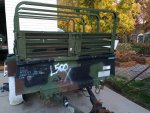 The 36"-39"
ADCO 3950 tire covers
that fit the 9.00-16 NDTs a bit loose fit the HMMWV tires a bit tight and don't fully cover the lower tread, but they a decent fit otherwise.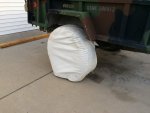 Last edited: