Happy new year folks.
Spent a decent amount of time out in the woods between the holidays.
I even had help this time.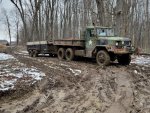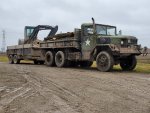 After the second day of above frozen temps, the dump trailer ended up being more of a boat anchor than anything. Even empty, the two wettest spots in the trail became impassable and required some time consuming winch work.
Ended up taking the Mini Excavator home with me after the first bed-load that day since the dump trailer couldn't be productively utilized out in the muck anymore, and the dump bed conversion that I planned on doing two years ago hasn't happened yet for reasons unknown.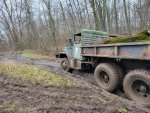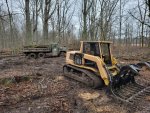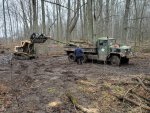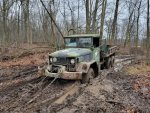 The little entrance trail we made into the work area developed an unfortunate soft spot.
Having to break out the winch on the last lap was far less effort than repeatedly having to do a 90 point turnaround each load.
Having to occasionally make new trails is why I only tack weld my mirror brackets back together instead of properly fixing them. For now of course.
For those wondering why we'd bother with such soggy ground, its really only a matter of having corresponding time off of work with my brother for the holidays than lack of planning.
Plus, I'd be lying if I told you that it wasn't fun driving through otherwise impassable trails in a heavily loaded Deuce.