I've been doing random bits the last few days, a LOT of bolt cleaning and tearing more apart. Cleaned off the battery box cover today, why, not sure. I've ran out of primer and am down to my last rattle can of OD! Painted the shiny chrome covered turn signal yesterday. It'll wear off quick I'm sure, I even scuffed it...shift knobs are black once again as well.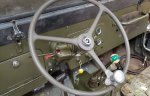 Oh, steering wheel! I sanded it down a few days ago, pretty impressed with how well it came out. The hub has some pitting that I know without a filler it will remain kinda ugly. But I'm fine with it, it looks way better than it did. And man, it stinks! Apparently when old paint is removed, the old plastic gasses off...whew. And yes, it's still a Sheller. Not sure if I'm going to eventually fill the cracks or not.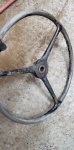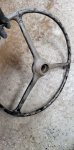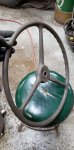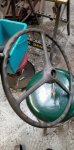 I had a thought the other morning that if I had kept any of the sheet rubber from my dad's stash, I could probably make up some new pedal draft seals since someone before me hewn some out of what looks to be a mud flap from a semi! Definitely happy with how they came out, and happier since I used what I had on hand and didn't have to spend any extra $$$! Even made up one for the steering column.