conceptualizer at large
Steel Soldiers Supporter
Wrecker play time - or as my wife says "Your still trying to justify getting it aren't you?"
You know the saying "I don't know what we did before we had ...... " (Insert as necessary - vacuum's, cell phones, microwaves, remote control TV's etc., etc. Now I can add
'wrecker'!
)
Had a little hick-up whilst mowing 2nd cutting hay...
Got off the tractor to pull burdocks (real nasty weed with nuclear reactive velcro exploding buds), then turned around to see the tractor and haybine trundelling across the field! Parking brake must have popped off! I gave it that "should I or sha'nt I?" go for it and try stop/steer the tractor away from the ditch and road........ But age, wisdom or a preminition made me just stand and watch, helplessly as it picked up speed, turned left (gradient dictating) and dived through the bushes, over the edge of the bank and came to an abrupt stop on the opposite side of the ditch.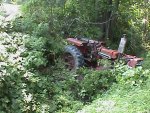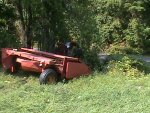 Well fortunately for the mower - still running when I got of the tractor, the PTO shaft seperated in half when the tractor nose dived - no damage to the mower, but the abrupt stop blew a hole in the end of the internal power steering cylinder sleeve (not an external ram type cyl).
OK..... So, 816 to the rescue. With no working parking brake or Micro brake, I had "Soldier B" chock every time I stopped. 'bout time to test the rear winch... Spades set, pay out, hitch, pull..... pulled mower and tractor 8', then stopped pulling! Winch PTO still turning...?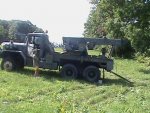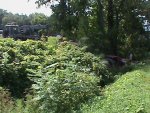 ... couldn't pay out either.... Hmmmm. So I braced the boom - for sus tow/transport, and used the crane to finish the pull. Scuffed the lower sheave seperating sleve a little but no biggie.
Sus-tow (lift tow) back to the shop/yard. New steering sleeve would be $980 but found a similar tractor in the local tractor breakers, got the steering unit complete for $550. So - finish hay with little tractor, fix big tractor then diagnose winch problems - not least being level wind pulley wheels siezed. Probably have to force unwind cable with tree or tractor.
Moved post from ".... done
TO
your 5 ton .... " as thread was getting too busy/vague.
Last edited: