While I understrand the need to support SteelSoldiers this idea has problems
While, the need to pay for hosting maintaining Steel Soldiers is a priority, I'm afraid the adding of ads to the leading post in all threads will have unintended consequences. Examine the first ad that I encountered as a result of this new effort. Tell me who is the advertiser being shown and the advertiser being spoken about in the thread?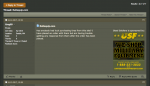 Food for though, what can we do that is better?
Of course our thanks for all the hard work of our administrators for keeping probably one of the best military vehicle forums up and running.
Cheers Phil