Active member
Steel Soldiers Supporter
Another common issue with these trucks is the reservoir for the windshield washing fluid is cracked and broken. Mine was still on the truck but it was falling apart. I am talking about the plastic reservoir on the passenger side, under the hood, mounted to the firewall.
I did not have much trouble finding a new tank and it even was 24 volt. The issue I had with finding a new one is that they were too small or were the wrong dimensions. The biggest problem I had is the electrical connector on the new tanks were not anything like the connector on the truck. I want to keep my truck as original as possible so I looked for a replacement for the OEM. I could not find one.
Then I set out to repair the one I had. Mine was really falling apart and had several holes in it. I have had luck with repairing water tubs so I thought I could use the same process for this.
The general idea is to repair the tank the best I could and then spray it with a rubber coating.
Here is what mine looked like.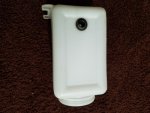 It is upside down but you get the idea. So first, I used packing tape to cover the holes.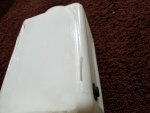 Second, I found any little plastics pieces that fell inside the tank or that fell off while I was removing the tank. I put them back into place and then used packing tape to hold the pieces in place.
Then I put masking tape on the places I did not want coated. I also put some long strips of masking tape where I wanted a "window" so I could see the fluid level.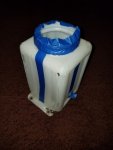 Next, I found a stick and tied some string to it and stuck the stick in the tank so I could hang the tank while I sprayed it. I gave it two thick coats of the rubber.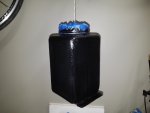 So now it doesn't leak anymore. It looks different than it did because it was opaque before and now it is black but at least I can use it. I hope someday I can find an OEM replacement.