Member
Steel Soldiers Supporter
I hope this story might help somebody or at least provide some entertainment.
I was on PTO last Thursday and Friday (12/05/2019) so I could drive to California to pick up my Military truck. My son and I drove down to get it and we brought a bunch of tools, two new batteries, and one spare tire.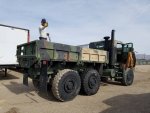 This is my son Jason as we were getting the truck ready to go.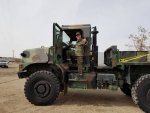 This is me after we picked it up in the storage yard.. BTW, they have hundreds of acres of government stuff for sale down there. The weather in Barstow was nice – no jacket needed.
While at the yard, Jason and I inspected the truck and saw several things that needed to be fixed. One big thing was that one tire looked very bad and we had brought one spare tire and so we talked the shop at the yard into replacing the tire for us. We also dumped 10 gallons of diesel into the 80 gallon tank so we could make it to a truck stop to get fuel. The trucks only have a few gallons of fuel when you pick them up.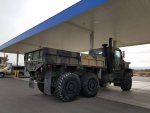 Here we are putting fuel in it. I could not find a truck stop so this is a regular gas station. The truck was very dirty and the top of my to do list was to wash it but we were running late so I did not wash it. There is sand on the side of it, maybe from Afghanistan.
So we started driving up I-15 towards Las Vegas. We had just crossed into Nevada when the front tire blew out. It was crazy and really scared me but nobody got hurt and I was able to get the truck off the road.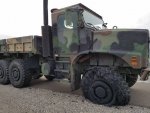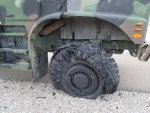 The tire was destroyed but we had already used our spare tire and the tire we took off before was in very dangerous shape so we could not use that. We tried and tried to find a tire around Las Vegas but no even knew what we were talking about and could not help us. So Jason and I had to leave the truck and drive back to my house in Herriman to get another spare tire. Then on Saturday morning after a few hours of sleep we got up and drove back to the truck. We had only made it about 60 miles before the tire blew out.
We finally found a semi service company that would help us change the tire and so they sent somebody out to help us. It took 3 hours for us to get on the road again and by that time it was dark. So we drove all night and nothing else really bad happened. I ran into rain and sleet and snow when we got to Utah but the truck just drove through it. We finally made it to Herriman at 7am Sunday. We had been up for 22 hours at that point.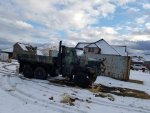 The 7 ton home at last!