Well-known member
Steel Soldiers Supporter
Well, in the grand scheme of things I can't say that it surprised me when I found a little spot of rust was the problem... I have had an ongoing battle with the stuff! I had a persistent air leak that sounded like it was under the drivers side step. There is a wad of air lines in the "box" in front of the air cleaner. With the truck running to build air - finding it was next to impossible. So, I attached shop air to the front left glad-hand.
Crawled under the truck and started poking around and found the source. Over the years, my 1984 model M936 had gathered dirt and road salt and general crud that laid on the metal plate (picture below) and it eventually ate through the metal on the air tank.
Thanks to
simp5782
I have a replacement tank on the way! He also suggested using Prune Spray on the bottom of the new tank and the plate too. Should protect it and keep this from happening again.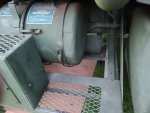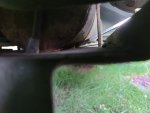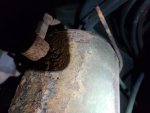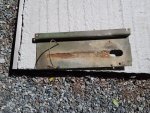 Anybody looking for a new project - or something to do to your truck - this might be worth the effort. All it took was a 9/16 wrench and socket to pop off the plate under the step. A 3/8 socket removes the nuts on the u-Bolts on the tank and the plate will be on the ground. If yours looks like mine, some scraping, cleaning and painting might be a good investment in time.