Member
Steel Soldiers Supporter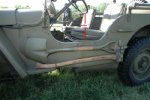 Can anyone provide me with the distance shown by the red line in the photo (bottom of steering wheel to top of seat frame bottom).
I believe the jeep I am restoring has had the steering column moved as I have to stuff myself in to get into the drivers seat with a 1" bottom cushion. Or, my beer belly has exceeded the TM specifications for a jeep driver!
The jeep has a Buick 198CI Fireball V6 engine in it from a previous owner and I believe that this may have been the cause? I have started dismantling the jeep but cannot visually tell if the steering column is attached in the right place.
The frame I.D. and the original data plates match. The body may be a CJA? that was added after the war as it has a rear PTO output via a splined female receptacle. The jeep also has a PTO lever by the drivers seat and a later model trans to support the PTO driveshaft to the rear.