remounting several things PO removed (and then got stolen by scrappers.... grrr) like air cleaner, spare tire carrier etc. One thing I've not been able to replace yet is the large heavy duty piece that the lift eyes extended from. This also has brackets etc. that hold spare tire carrier, Air Cleaner etc.
Before I try to get one of these large massive things removed and shipped to me...... do I really need it? Does it act as a cross member for the chassis? If not we can just make new support only strong enough for tire carrier etc. Cuts a lot of weight that way. If so we will reuse parts of the the heavy ROP rack the PO had put in its place.
whats your thoughts on this?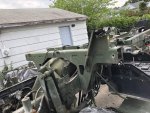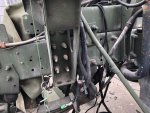 Thanks Suprman/Will for these pics.
for my reference... can anyone hint at about where the cab air springs and their cab lock hoop would sit in these pictures?
Last edited: