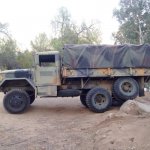 I am just waiting on a shipment of 1" bolts. Then I will be putting on my new rims and tires.
So I articulated the rear suspension today, checking how far from the bed the tires get.
With stock 9.00 ndt tires, I have about 1 1/2 inches of clearance before the tire rubs the bottom of the bed. So my next question is, how bad do the 395's on mraps rub on the deuce and a half? I am not looking forward to chunking up my brand new tires on the bed ribs.
What have you guys done or experienced to get around this issue?
It looks like I can pretty easily make some solid spacers to lower the rubber bump stops, but then we're losing articulation.
Or I could tub the bed and keep full use of the rear suspension. Has anyone gone this far?
Last edited: