After an unknowing person was involved they wanted only new parts and were sad to find out that the parts were not available anymore. Even the after markets were not available where they were looking. I offered the parts needed to get this issue rolling. I have many parts and like to see them put to good use and not as scrap weight. I have been depleting my inventory as scrap and easy trade lately. Outer axle stub.
https://www.dennysdriveshaft.com/p1747_dana_spicer_41677_outer_axle_shaft_fits_1978_to_1991_chevy_g.html
OUT OF STOCK.
This used one will do the job.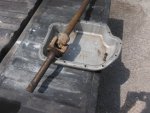 Transmission pan was the type I don't like. No drain plug. And can you identify the bolt and nut? This one has a standard ground down bolt in it's place. Not here. Be Safe and Take Care