Howdy,
Adapter, Container NSN 5342-00-066-1235 MFR P/N: 13211E7541
Is the 5 gallon/55 gallon bung adapter which the aux fuel line connects to.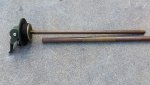 Auxiliary Fuel Line NSN 4720-00-021-3320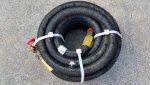 Auxiliary fuel hose specs
View attachment aux fuel line specs1.pdf
bung adapter in 5 gal MFC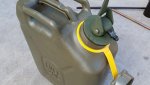 In a 55 gallon drum you use both pieces
NOTE:
Test out your AUX pump system before needing it.
Start the unit
Have the AUX selected
siphon fuel out of the day tank
Watch inside the tank, and fuel level
Listen to when the AUX kicks on
Stop the siphon
Watch the day tank fill
Watch your fuel level move up
Listen to when the AUX pump turns off
On all machines it will be a variable. It is roughly low point, kick AUX pump on 20% +-5% and turns off maybe 75%+-5%
This should be tested before walking away from a unknown unit if it even works. Test and verify. Some members ended up with 50 gallons of fuel on the floor. The AUX pump never shut off.
Floats get sticky? Someone messed with height adjustment? Floats disolved? 2 floats-low level -high level Seperate from fuel level floats
Last edited: