Well-known member
Steel Soldiers Supporter
For those of us (you) who like things tidy, less risk of contamination: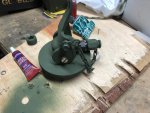 #10-32 SS hex screw (same as used on genset). Cap was $3.75 (got a 2-fer on the popular auction site for $7.50, shipped)
Edit: 10-27-2018
An update to hardware fittings. Being intimately familiar with Murphy's law, I put a shutoff valve inline with the cap outlet, and thought someone might find this helpful too. Had to buy a 1" extension (1/4 NPT to 1/4 NPT) for the valve to clear the compression plate (could've dismantled it, I guess, but not familiar with innards or reassembly).
I put a 3/8" to 1/4 NPT adapter on the bottom of the bung, 3/8" copper (I used K, but L could work as well) tube, piece of Continental nitrile hose, clamps, and a WIX 330003 filter (good for 20 microns, IIRC) for a pickup.
Haven't cut the tube to length yet, but will set if about 1/2 inch from the bottom of the drum (55 gal). Figure if enough fuel can feed through a normal 1/4 inch ID hole through the filter, shouldn't be a problem getting fuel though the holes I made in it.
Overkill? I don't think so, just cheap, easily replaced insurance.
Improvise. Adapt. Overcome.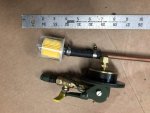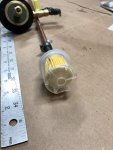 Last edited: