Removal of the knobs didn't help in the end, with transfer stuck in Low and the 2/6WD selector held forward as a result, there's not enough room to move the doghouse up and forward before i hit the dash. On the upside i'm pretty sure it's the high/low that's my problem after getting a torch under the cover to peer around a bit.
Also seem to have a few access hatches cut in to the doghouse, are these a common mod as they don't look original but they do have the feel of not being done beyond service life.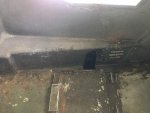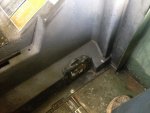 Not much actually achieved this break, but feels good to be crawling around the old girl and becoming a little more familiar.