OK, to answer the most recent question, I don't have any fuel leaks that I can detect.
I had charged the batteries up the other day and it was fairly warm out today, so I worked on the 09 for a little (old hands get cold quick). First was a check to see if the fuel pump was working. Disconnected the hose coming up to the filter housing and removed the pink wire from where it connects near that throttle assembly. Had the wife crank her over and fuel flow was awesome, pulsing with the turning of the crank. However, what came out of the hose doesn't look like diesel. Not I have added some 911 to the tank, but should my fuel look like this???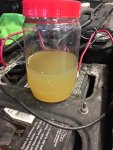 Anyway, I connected it all back up and had the wife go through the glow plug cycle, then press down on the accelerator peddle once, then had her try to start it. She cranked for about 3 seconds and then fired right up ! However, my joy only lasted about 5 seconds and then she shut down again. I tried a few more times to get her going, but she would start to fire and then nothing. She is cranking over fine and when she does fire up, she sounds strong. What the hell I am missing.
If the pink wire is disconnected, she won't fire, is that correct? Is there some sort of inline fuse associated with the pink wire? This is a simple engine and it has got to be something tiny that is causing this.
I do not think it is an IP issue, because when she does fire, she is strong. She ran great, in the rain, for 6 straight hours on the road and then a few 30 minute to an hour trips after that before she just refused to light off. But I could be wrong.