OK, I think I have a temporary storage solution in place, so my next question is.....how do I get the fuel out of the tank. I tried a 1/2" syphon hose, but it doesn't seem to work. I don't really want to break open any hard lines, as I do'n't want to take the chance of breaking one of them.
However, ANY suggestions (pertaining to this issue
) would be greatly appreciated.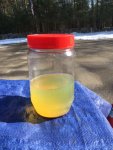 Also, this is the same jar of fuel. It has been sitting on the work bench, undisturbed, for about a week. I think it looks better, but still not clear. Any thoughts?