dumpsterlandingfromorbit!
Steel Soldiers Supporter
Was your truck running before the fuel shut off stuck? As far as removing the rod its pretty simple. When you remove the shut off cover you will see the arm attached to the fuel control rod. There should be a bridge piece with 2 screws and safety wire going through the screws. On the bottom of the arm there is a tiny Jesus clip that attaches that arm to a rod that goes inward and to the back of the pump. To remove the rod simply pull the Jesus clip, don't lose it, and then cut the safety wire and remove the 2 screws. Very carefully pull the control rod strait out. The reason I say carefully is there is a little "tit" on the very end of the rod that can slide out and fall into the pump. Make sure this tiny piece is still there. The o ring will be around the rod.
Steps to follow.
1 - Disconnect batteries
2 - Remove side cover from IP
3 - Remove "Jesus" clip from fuel control rod - Do Not loose
4 - Disengage the fuel control rod
5 - Cut and remove safety wire
6 - Remove two screws and metal bridge
7 - Carefully pry out the shutoff rod - DO NOT loose the plunger sleeve pin (tit) at the end of the rod
8 - No need to remove nut and the lever from the rod unless it is also gummed up. If you do remove it make sure you scribe a mark so you can reinstall properly
9 - Clean all the gunk of the rod. Carb cleaner works well. Also so steel wool or emery cloth. Do not remove any metal.
10 - Use the carb cleaner to clean the opening and the plunger sleeve - you may need a mirror and flashlight to see it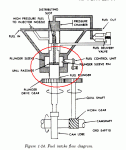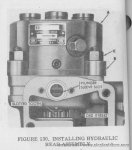 While you are at it you might as well replace the o-ring. It is a #13 and available at most hardware stores.
This next step is the hardest.
11 - Reinstall the shutoff rod. You have to make sure the "tit" engages the the plunger sleeve. It may take 2 or more tries. One way to do it is to make sure the sleeve is all the way down and you are holding the lever in the proper orientation so the pin is also towards the bottom. It is mainly a "feel" install.
Rotate the fuel arm and see if it stops moving. The range should be from 7-8 o'clock to 4-5 o'clock. If it has more than that the pin has not engaged the sleeve correctly.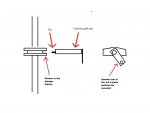 12- Reinstall the two screws and bridge.
13- Reinstall the safety wire. Most people do. Some do not
14 - Reinstall the control rod
15 - Reinstall the "Jesus" clip
16 - Reinstall the side cover (you may want to do this last so you can check the operation of the rod)
17 - Reconnect batteries
18 - Remove the air intake mushroom cover. While you have someone standing by the air intake with a board, start the engine. If it runs away have soldier B cover the intake with the board. Rehearse this in advance so no one is suprised
Last edited by a moderator: