This is the one I have...pic from TM 9-2910-226-34, page 3-105: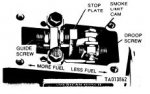 Pics of my actual pump are on page 1 of this thread (sorry for jacking it maddawg308! But its in keeping with your pump thread)
Tell me something...I know all pumps are different, and I just want to eliminate the simple before going too deep. I know the filters were replaced not all that long ago, maybe 1500 miles. The truck has been exactly like this the whole time I owned it, which is aprox. 1300 miles. Part of me wants to swap out the filters anyway, but I don't see where it can be a filter issue. I'm obviously getting fuel, as there is smoke. And the boost is low, pointing to a pump or turbo issue.
Jim
Last edited: