Former SSG
Steel Soldiers Supporter
I got the truck at auction as a dead truck quite some time ago and towbarred it to KS. I just recently got the time to go through it and make it roadworthy.
Batteries, fluids, and above all brakes. No pedal at all. Right to the floor.
New batteries and a bit of wiring got it running.
Filled the master cylinder and bled the brakes. Bled the master cylinder dry and got to do it all over again.
The park brake looked like it had brand new linings except the inner lining was split and missing half. My conclusion is it rusted to the drum and then snapped off half the lining when it failed to release and the truck was moved. So, new lining for the park brake....
Went to run it around in the field and see if the park brake was dragging. Buried it to the axles and spent an evening getting it out. (Pics and details elsewhere)
Spent hours removing the mud and washing it.
Then the day of the trip was upon us. Step one was to release the snapping turtle I had picked up off the road in KS.
(Edit to add pics)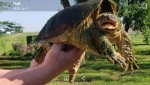 Last edited: