Hey guys!
I had a 60 amp alternator that ended up overcharging the whole vehicle and fried the glow plug module, which then fried the glow plugs.
I bought a new glow plug module, glow plugs, and a new 200 amp alternator with the voltage regulator mounted on top.
The glow plug issue is fixed, but now I'm having an issue charging, and was wondering if anyone can recommend ways to start diagnosing the problem.
I had a friend do the install I thought it was strange he had a jumper wire from the front of the voltage regulator where it had a 14v output lug and grounded it to the case...he said that's what the instructions specified.
I bought it off eBay, and this was the picture of it.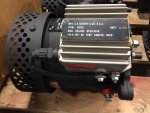 I checked the output of the generator wire and I was at 23.08 volts and it would go down as the engine kept running. So, I'm assuming the generator has no output.
So are we convinced its the Voltage regulator? I can't believe how expensive all this 200 amp stuff is...wishing I stayed with the 60 amp stuff now.
Thanks!
Last edited: