Active member
Steel Soldiers Supporter
We all have to deal with removing hubs / brake drums at some point on our 5 tons and given the weight of these assemblies and how clumsy they're to handle it's nice to have an extra hand or gizmo to help out. I have seen wooden cribbing, jack stands on creepers, and purpose made truck shop dollies to aid in this painful exercise, but after being inspired by the half-wheel fixture that MyothersanM1 made up I decided to design one of my own. This spring I had 4 wheel cylinders to rebuild and this tool made it super easy.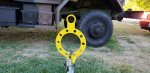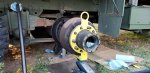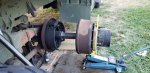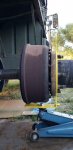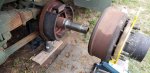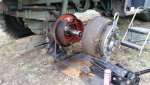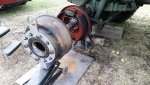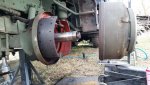 This HubHelper is laser cut out of 3/8" thick P&O (pickled & oiled) carbon steel plate, formed on a CNC press brake, deburred in a vibratory shaker, and then a chamfer is added to both sides of every hole with a heavy countersink on at least 4 lug holes for the lug nuts or thimbles to seat on. There is a generous slot that allows it to be mounted to a floor jack that has a round hole (not D-shaped) and it can accommodate up to a 1" bolt for mounting. The black jack in the bare metal pictures is using a 1" bolt and the blue jack in the yellow pictures is using a 3/4" bolt with a large washer. There is a large ring on the top to use for man-handling the hub or to lift it with a cherry picker/engine hoist. The first picture shows the HubHelper powder coated safety yellow and tricked out with a spout and a can holder that I made after my front hub gushed gear oil all down the tool and all over the floor jack during its trial use. These trinkets are intended to catch dripping oil coming out of the front hub and would not be used on a rear hub. In the last photo you can see an adjustable set bolt that I thought would support the drum and keep the weight from bending the tool, but the metal is strong enough that this is probably unnecessary.
I leave the large bolt slightly loose and use the loop on the top to direct the hub back over the spindle with ease and no fear of messing up a hub seal. This allows the hub to be minutely adjusted by hand as the inner bearing seats on the spindle. What I love is this thing will hold your hub and drum indefinitely while you change brakes shoes, repack bearings, replace wheel seals or what ever you need to do and your floor jack holds it at the same height for reassembly. I just replaced 2 wheel seals and this lets you creep up on the spindle so you can position the inner wheel seal in just the right spot with no worry of rolling the lip.
This was originally just something I made to make my life easier and save my back, but if it generates enough interest I will start selling these to whoever wants one.
Moderators: This is just an introduction to explain usage and gauge interest and if I do produce any to sell I will put a post in the classified section.