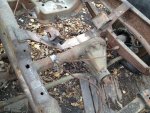 Hello. It has been a while since I have been on this site but a recent purchase has brought me here in search of wisdom from those in the know.
I bought a rolling frame and saved it from the crusher. I am a welder/fabricator and heavy duty tech. I tend to have visions of what I can turn something into and these combat rims caught my eye. I have an idea for the frame but would like to know what it is. After some research I have deduced that it might very well be a WC51 chassis. Unfortunately a PO not that handy with a welder but pretty good with a torch, tried to mount a Chevy van body on it. Not a huge problem. Steel will melt and join and become one again. Lol
I am getting it home on Friday so I will look for the number on the frame rail but the quick look I took when I bought it did not reveal anything.
I am on my phone and will try to post pics. If it doesn't work ill throw some up when I get to my desk top.
Many thanks for any help.