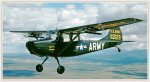 I have an L-19 Birdog that is currently under restoration. It's currently in the jig, so far we have replaced the gearbox along with some fuselage skins. It's a long way from being ready to fly again. However, parts and pieces are ready for paint and final assembly stages. We have taken it as far apart as we plan and now it's on the way back together.
So, I am looking for someone who may be able research operational history of this airplane. It was OD Green when we got it, the best we can tell it was operated by the Army. I know it was exported during delivery. Currently we are planning on putting the Arctic Grey Air Force paint scheme on it. But if I had operational history especially with an inservice picture, I would paint it to match.
I had the service history of my M35A2 tracked down here on Steel Soilders. Does any one know if anyone does the same thing for Aircraft?
Aircraft Information Known;
Cessna Serial Number: 21379
Military Serial Number: 50-1655
Contract Number: AF33(038 )-13282
Date of Manufacture: 04/30/1951
Drawing Number: D-600
Assignment: Export
Model - Plant: L19A - Pawnee
Notes: JG1061 USA
Thanks,
Pete
Last edited: