Member
Steel Soldiers Supporter
Chapter Three: Cab heat and lousy pavement..
After losing time with the repair we began to make some miles, headed toward Las Vegas and our eventual crossing of the Colorado River. It was only 91 deg. in Glitter Gulch this day, but it pointed the need to add AC to the cab sooner than later. Living in North West Nevada sometimes provides milder temperatures than the southern part of the state. After today, I now have the go-ahead from the wife to add the air!
After crossing the Colorado, we began the long climb out of the river canyon. Even with the 3.90 gears we were making 45-47 MPH with little problem, and I was pretty happy with the little CAT today. Driving toward Kingman we were somewhat surprised at the poor condition of the highway between the dam and Kingman. As it turned out, Hwy 40 out of Kingman to Flagstaff was not much better. On the other hand I was glad to have 46" tires as some of the pot holes in the slow-lane would have killed a small import car!
Finally, a stop at Lulu Belle's in Ash Fork provided a much needed break. We highly recommend this spot if you are ever in the area. The rib meat just falls off the bone with delicious and generous portions!
A kilt Lifter was my treat after a long and hot afternoon.
As we had gotten a late start, we decided to get a room for the night and explore Sedona the next day. We we not allowed to check in to the campground at OE until 1:00 pm, so why not see more of the area? The problems with the truck appeared to be solved. With stress level reduced, I began to enjoy the trip more. With windows down, to feel the cool morning air, we descended into Oak Creek Canyon. Mrs. Pointman repeatedly requesting more braking as the road narrowed, and wound its way down. From her right hand perch, she had a birds eye view of the bottom of the canyon and was not comfortable.
We ere reminded of one of the great features of the LMTV. The broad 'picture' window of a windshield we get to look out of. It's easy to take photographs unimpeded as we are on the move, and we took plenty this day.
After a quick tank top off, we picked up some provisions at the local Natural Foods Market. Then, after managing to avoid all the crystal and metaphysical stores in Sedona, were off to meet the 17 and the quicker way back to Flagstaff. There were lots of beautiful and weird rock formations, and if we had more time a hike would have been in order. Buffy had earlier noted there was an Eddie Bauer store in Flagstaff with a 40% off sale going on, so we headed there first on our way back into town. As we passed the show site, we could see multiple vehicles already lined up for the 1:00 check in at the fair grounds.
With shopping and lunch completed, we took our place in line in line. The volunteers manning the gate were overwhelmed with he crowd, but did their best to get everyone lined up for the short trip to get our passes and a camp spot.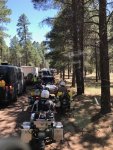 Once checked in we were directly to 'Dispersed Camping'. Now one of the goals in putting on events like Overland Expo is managing customer expectations. I know this for a fact after putting on a major ADV Motorcycle Rally in our home town for 4 years. The campground was only 'dispersed' from the standpoint of is distance from the main venue. We were NOT dispersed from our fellow campers. In fact were were packed almost on top of each other. At one point, a camper van was directed to back into a small space next to us. They were in so close at one point, I couldn't open my driver side door!
This was quite disappointing based on the cost of attendance. It was either done intentionally ( they knew how many tickets were sold), or the promoter just did not have enough volunteers or space to handle the crowd.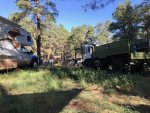 After meeting our neighbors and locating the nearest restroom facilities, we settled in to camp. It was a great time to walk around and look at what other folks were doing with camper builds on other types of vehicles.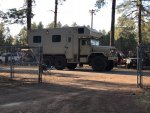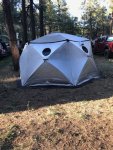 Interesting Alien tent..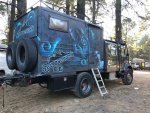 Older Mercedes truck chassis..
After a fair bit of snooping it was getting late and time for adult beverages before turning in for the evening..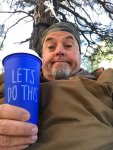 Last edited: