Today I was off early to help a family friend split some wood. I always knew why I bought the towing package.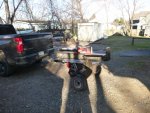 It spilt a lot of wood. Mainly I run the lever. Then I came home and repaired my little wood hauler. I removed a used starter from a parts tractor and fixed all my issues.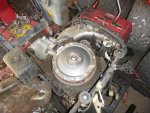 Something is not right with the starter that I just had rebuilt. The drive comes up and engages but slips in the clutch of the starter drive. I tested it with the flywheel removed and it comes out every time and spins and sounds great. The flywheel in place it is not happening. I think the starter drive has a sealed clutch. It's well built it's a Honda. This was the donor tractor. I have 4 stored in an M1010 body. I love tinkering and figuring things out. Besides you meet the nicest people on a Honda.
Have a great week and Be Safe.